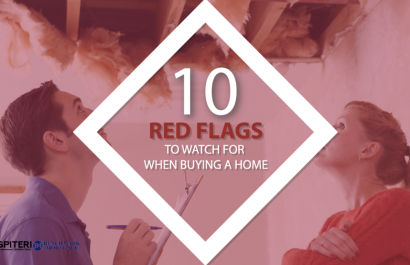 Buying a home is a huge investment and it's important to know what you're getting into before making the decision to buy a home. We know house hunting can be pretty overwhelming and you probably can't afford a professional inspection for every home you look at, but there are certain things every homebuyer should look out for when viewing a potential home. It's important to address these problems now before they cause more damage later to your home…and wallet.
Foundation and Structural Problems
Signs of structural problems include large cracks in the home's foundation, door frames that are crooked, and doors that are hard to close.
If you see these issues and want to further determine if their is damage then it is best to hire a structural engineer for an inspection.
Pest and Insect Problems
The most common pests to steer clear of are termites, powder post beetles, and carpenter ants.
Pest inspectors are more expensive, but could save you a lot of money in the future if there is a pest problem.
Random Spots of Fresh Paint
Freshly painted rooms don't necessarily point to problems, as many realtors suggest new paint to freshen up a room, but random spots of paint can mean the seller is trying to cover up a problem.
Non Professional Craftsmanship
Some sellers think they can "flip" their house themselves to make it look better even though they have no qualifications to complete the projects correctly.
The most common amatuer craftsmanship projects to look out for are plumbing, carpentry, and electrical work.
Odors.. But not just bad ones
Both bad and good smells can be a red flag. Most sellers will have their house cleaned before showing it off, but if you walk in to an overwhelming smell and see air fresheners in every room, the seller may be trying to cover up a problem.
Neighborhood Conditions
It is always important to look at the conditions of the neighborhood in which you are looking to buy. Just because it is a little run down doesn't mean you should run away, but it is important to do your research.
Watch out for boarded up or vacant homes in the neighborhood, problematic signs like this can cause more problems in the future.
Stains
If you see stains on the walls or ceilings that the seller hasn't tried to cover up. These could lead to more problems in the future and even thousands of dollars in repairs!
Electrical Problems
We know most potential buyers aren't electricians, but simply checking light switches and outlets, and making sure there are no flickering lights, could again save you thousands of dollars on repairs in the future.
The two most common electrical issues found during inspections are improper wiring and issues with the electrical cable.
Poor Drainage
If you take a look in the backyard and notice small lakes then it's probably a sign of poor drainage, which could also lead to issues inside the home.
Also look out for overflowing gutters, migrating mulch, cracking in the foundation, and water stains on basement walls.
Grading should be sloping away from the home's foundation.
Mold
Mold is a serious condition that should definitely be inspected immediately.