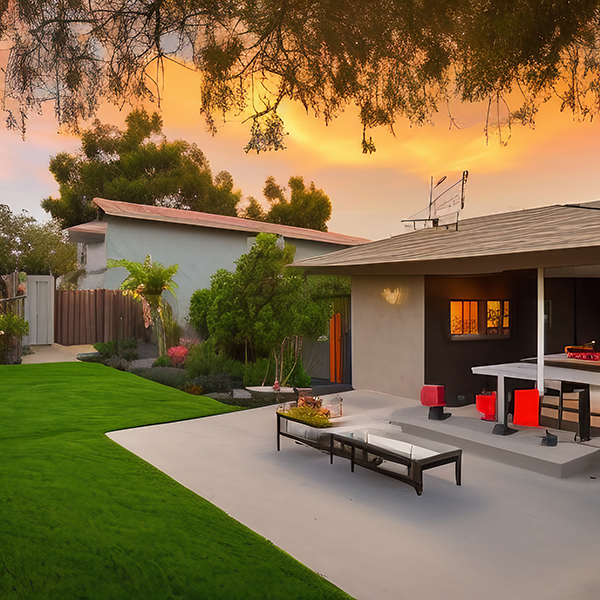 Adding an Accessory Dwelling Unit (ADU) to a property you already own can be a great way to increase the value of your property and generate additional income. An ADU is simply an accessory dwelling unit on the same property as your current residence, but it can serve many purposes, from providing extra living space for family members or renters to creating a separate office or workshop for your business.
When considering an ADU, one of the first steps is to research local regulations and building codes. Each county has different requirements when it comes to adding an accessory dwelling unit, so you'll need to check with your local planning department before beginning any project. After researching the regulations, you'll also need to determine the size of your ADU up to 1200 sq ft and the materials you'll use in its construction.
Once you have an idea of what is required, it's time to begin planning and designing your new space. Consider what type of living area or office space you want to create, as well as the features that will make it comfortable and functional. Think about windows, doors, and other architectural elements, as well as any landscaping needs or additions you might want to incorporate into your design.
Once your plan is in place, you'll need to hire a contractor who can help with the construction of your ADU. This includes obtaining any necessary permits as well as doing the work itself. While it is possible to do much of this work yourself, hiring a professional can help ensure that everything is done correctly, and you don't run into any problems further down the line.
The next step is how to pay for it, one way is cash however not everyone has enough cash laying around so financing may be an option. I have come up with 10 different ways to finance an ADU I am sure there are more.
Finally, once your ADU is complete or maybe at the very beginning you'll need to decide how you want to use it. You may want to rent it out for additional income, or you might choose to keep it as an extra living space for multi-generational housing (children, aging parents), or just a place to get away from the hustle and bustle of your daily life.
Building an ADU on land you already own can be an excellent way to add value to your property and create a unique living space or office. If you research the regulations, finance it properly and hire an experienced contractor, adding an ADU can be a rewarding and fulfilling experience. Good luck!
Have Questions, Reach out to me for more information.
Call me at (858) 526-3037
Carl Spiteri Branch Manager – Mortgage Advisor
NMLS id 286890
(858) 526-3037
carl.spiteri@benchmark.us
Benchmark Mortgage
Ark-La-Tex Financial Services, LLC NMLS id 2143
#accessorydwellingunit #adu #grannyflat #realestate #construction #tinyhouse #tinyhome #architecture #losangeles #garageconversion #accessorydwellingunits #casita #guesthouse #rentalincome #designbuild #backyardhome #inlawunit #backyardcottage #homedesign #tinyliving #california #design #realestateinvesting #yimby #homeremodeling #prefab #homeoffice #home #losangelesrealestate #modularhome #grannyflats #contractor #interiordesign #maxable #ocrealestate #architect #househacking #housing #orangecountyrealestate #losangelesrealtor #californiarealestate #tinyhousemovement #podcast #flipping #aduready #biggerpockets #awesomedwellingunit #aduamerica #aduloanguy #vvelcome #realestateinvestor #adudesign #tinyhomes #builder #ripnipseyhussle #newbuild #renovation #longbeachrealtor #grannyflatdesign #sealbeach